Published On: August 1st 2009
Published by: Harlequin
Written By: Rachel Vincent
Reviewed on: 1/28/2012
Challenges read for: Soul Screamer's Challenge 2012 & A-Z Reading challenge 2012

This book Follows Kaylee a Bean Sidhe (a.k.a banshee) through her journey of discovering her family heritage that she believed to be nothing but old folk tales. She lives with her aunt and uncle because her dad left after her mother's death... and she has been seeing things nobody else can see and her aunt and uncle lead her to believe she is crazy. Later thanks to a hot guy named Nash, who is more clued in on who and what kaylee is than she is, Kaylee realizes she isn't crazy,she's a banshee and is hurled into a world of grim reapers and netherworld creatures she only ever thought existed in fairytales. This book is the first in a series entitled soul screamers.

I love this book! I have never read a book about banshees or should I say Bean Sidhes. Rachel Vincent is an amazing author and I love how she makes the characters relatable. I found this book to be a page turner, I didn't want to put it down and am excited to read the other novels in this series.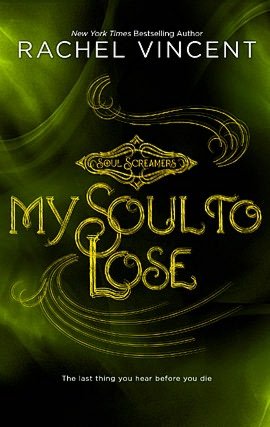 Published on: July 1st 2009
Published by: Harlequin
Written by: Rachel Vincent
Reviewed on: 1/31/2012
Challenges read for: Soul Screamer's Reading Challenge 2012
I just finished reading My soul to lose, a bonus story in the soul screamer's series by Rachel Vincent. I like this however unless I missed something in My soul to take I still don't understand how Lydia took Kaylee's pain. So poor Kaylee screamed in the mall and tried to claw her own throat out and her aunt and uncle admit her to a mental hospital. She meets a girl name Lydia who doesn't talk much, one day a boy named Tyler gets hurt and is dying and Lydia grabs her stomach as if she is in pain and then Kaylee feels like she is going to scream and Lydia tells her to hold her hand and she will take Kaylee's pain. I'm not sure if this book was really necessary because it left you with the question of Lydia and then as I said earlier unless I missed something in the first book, My soul to take, it didn't answer that question.